A week in France. Marvellous. As I sit on the sofa and peer out of the window upon another grey, windy, rainy September morning in West Yorkshire, I wonder why I came back.
The first couple of days, we spent in a tiny place called
St Pierre de Champs
. It's in the middle of nowhere, which is handily placed in the Aude wine region. We stayed in an old chateau. With just four suites, it was never going to be too busy.
And so it proved. Fresh food, straight off the surrounding farms and fresh wines, straight off the local vineyards. Splendid stuff. There was a pool as well, which came in handy as temperatures soared.
We were there for two nights and it was a different bunch of fellow guests each night. Both nights, we were the only ones who spoke much English - any, really. This had a twofold benefit. We got some much needed practice with our French and when the Most Boring Frenchman Ever wouldn't shut up about bloody bull-fighting, we could surreptitiously take the piss.
We took a walk the 6km to Lagrasse - yes, I do walk places - which apparently features in some Dan Brown-type novel. We didn't know this, but put two-and-two together when the whole place was full of English tourists banging on about it. That said, it's easy to see why one would coo, as it's a lovely wee town and the abbey is quite stunning.
From St Pierre, it was off to Perpignan in order to catch the
last game of the season
. The hotel (Mondial, if you're interested) wasn't so nice. Exceptionally uncomfortable, truth be told. Perpignan is, however, home to the greatest hat shop in the world.
We flew into Carcassonne and were due to fly back from the same place, so we headed north, via a few Rugby League hotspots, for a day there before the stupidly early departure. And by eck it's stunning. The old city is another which has had films and books set there and, again, it's easy to see why.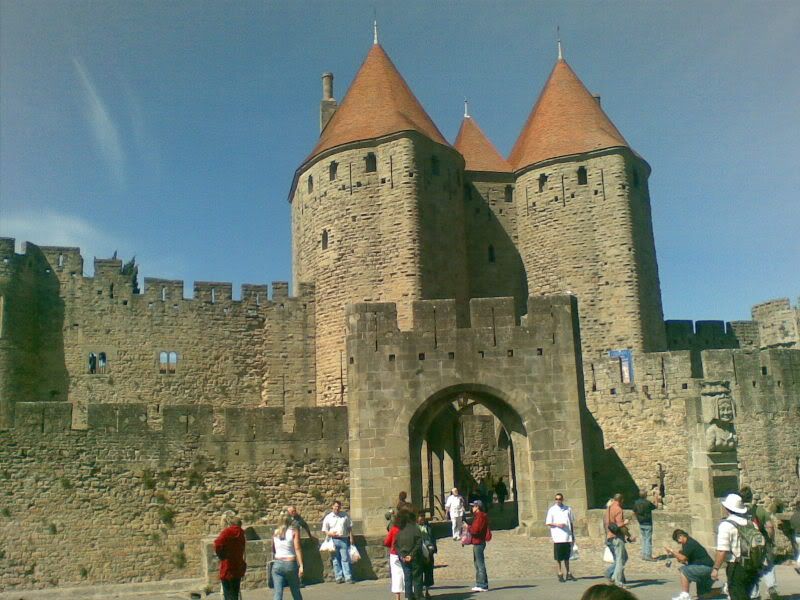 Sadly, like that other walled city that's close to my heart - York, it's full of shops selling pointless touristy tat. On looking for a bar, we settled for a place by the station. It was all very pleasant, but was home to a toilet which resembled
that
one in Trainspotting. Be warned.
We stayed the night in the cheapest place we could find near the airport. It was basically a cube. We'd gone from the sublime to the utterly ridiculous in seven days.
And so back home to plan the next trip. I'm thinking Paris for a pre-season friendly at Stade Charlety, but another trip south will depend on the fixture list as I'd like to combine a Dragons game with an AS Carcassonne game in the French domestic league. I'd best get saving.
Of course, it wasn't just pleasure. There was
some rugby
involved as well.